The Court Reporting Academy Announces the Award of 3.5 CEU Credits for its Digital Scoping / AI Editing Course
AI Digital Scoping Course Receives 3.5 CEU Credits From the AAERT: Master AI Transcription Editing Skills With The Court Reporting Academy
The Court Reporting Academy (TCRA), a leading provider of career preparation and educational courses in the court reporting industry, is pleased to announce that its Digital Scoping Course has been awarded a total of 3.5 CEU Continuing Education Credits by the American Association of Electronic Reporters and Transcribers, (AAERT). This AAERT accreditation validates the high quality and relevance of TCRA's educational programs, ensuring that professionals in the court reporting field have access to valuable, up-to-date knowledge.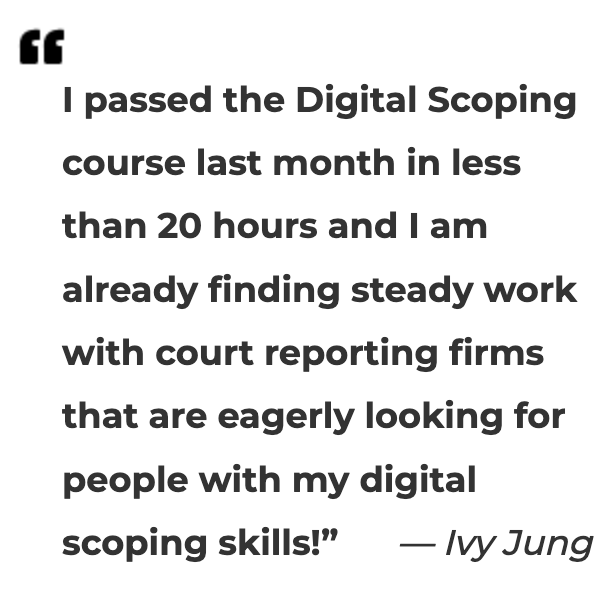 What is Digital Scoping? A traditional scopist is one who edits transcripts using proprietary CAT (Computer Aided Transcription) software programs for a stenographic reporter; a digital scopist is one who edits legal transcripts that are generated by an automated speech-to-text (STT) system. The Digital Scoping Course is designed to meet the evolving needs of professionals in the court reporting and legal transcription market sectors. With a focus on practical skills and industry best practices, the program equips participants with the necessary skills and knowledge to excel in their careers and stay ahead of the industry's emerging technology transformation.
"We are thrilled to have received such strong validation for our Continuing Education Program," said Patricia Falls, Managing Director at TCRA. "This accreditation is a testament to TCRA's commitment to providing state-of-the-art educational opportunities for professionals in the field. Our program aims to empower individuals to enhance their skills and stay current in a rapidly changing industry."
The Digital Scoping Course is available as a free 24/7 online self-learning course and covers a wide range of topics and professional skills development sessions, including: legal transcription best practices, automated AI generated STT technology; STT editing and transcript production tools; templates and custom format creation; editing hotkeys and much more. The course includes the use of AutoScript (https://autoscript.ai), by VoiceScript, Inc., the court reporting industry's most advanced and easiest to use automated STT and transcript production platform for independent professionals and court reporting firms.
"I passed the Digital Scoping course last month in less than 20 hours of self-learning and hands-on practice sessions. I am already finding steady work with court reporting firms that are eagerly looking for people with my digital scoping skills", said Ivy Jung. "The 3.5 CEUs are an added bonus, as they represent a full three years of CEU credits required to maintain my AAERT certification."
Interested participants are invited to register for the free Digital Scoping course by visiting https://thecourtreportingacademy.com/digital-scopist/
About The Court Reporting Academy
The Court Reporting Academy, Inc., combines traditional knowledge and skills development practices with emerging technologies and techniques to prepare aspiring and current court reporting professionals for on-going success as the court reporting industry transforms itself through advanced technologies. TCRA's training and mentorship team has over 100 years' experience in successfully preparing individuals to be highly qualified court reporting professionals. The Academy's courses include digital and stenographic reporting as well as digital and stenographic scoping programs. The Court Reporting Academy is a proud platinum sponsor and supporter of AAERT. www.thecourtreportingacademy.com
###
Contact:
Patricia Falls
Managing Director of The Court Reporting Academy
pfalls@thecourtreportingacademy.com